Dec 15, 2007
Happy holidays to you and your loved ones. We had an awesome year! If someone had told us that life could be this sweet I do not think we would have believed it!
In January & February Rosemarie appeared as Connie Francis in "A Salute to the Superstars" show in Palm Springs. She lived in a Casita and Bill spent some time there with her. Tom Jones from Canada, Cher from LA and Kenny Rogers from Vegas were her co stars. A different venue for every performance. One audience had 500 people and closed with a standing ovation.
<![if !vml]>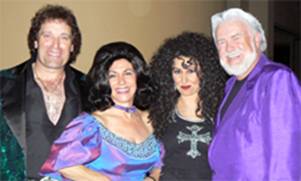 <![endif]> <![if !vml]>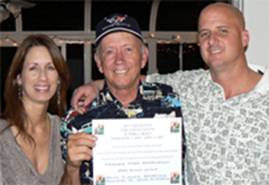 <![endif]>
In February we celebrated Bill's 70th birthday. We were surrounded by our children for this hall-mark! Ron & Laura and kids surprised Bill with the most amazing dream come true gift. Bill was in disbelief and overcome with tears as he read the certificate for two nights at the Spanish Bay Inn in Monterey CA with rounds of golf for 2 at Pebble Beach and at Spy Glass. Bill played really good golf and was so delighted! Ro did OK but it is cart path only so there was a lot of walking. They are both beautiful courses.
Rosemarie continued to teach and to perform with her partner Judah and make other appearances while they prepared for their stay at Monterey. One highlight was a guest spot Rosemarie did on the Jimmy Kimmel late night TV show! She player the Chiquita Banana Lady and Bill got to go with her. National TV! The little skit was so very cute. Something to be proud of! We both enjoyed the trip up the coast and golf on April 2nd - 6th. WOW we are still in AWE over the gift! We did the 17 mile Monterey Drive, and visited Hurst Castle; saw the land mark CA bridges, and the monster seals lying on the beach. That trip was a warm up for the 8,000 mile motor home trip we took between April 15th to June 8th.
Rosemarie has been very active in the San Diego All Star Clown Club this year. She is editor of the news letter and continues to work on it even when she is on the road. Technology is amazing! In November Ro also taught at her favorite spot the Western Regional Clown Convention in Laughlin NV. Five days of fun and learning. She is planning on performing with Judah and Erica (amazing 16 year old apprentice) next year. This trio performed at the Victory Conference for 2,000 kids at the LA Convention Center this year. WOW!
We did a motor home trip in 1979 with our kids and had a ball. We were not sure if we would like the motor home idea as we swore we would never travel this way again so we got a second hand 22 foot class C Itasca to try it out. Well we loved it!
<![if !vml]>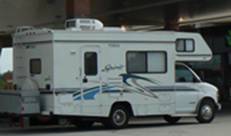 <![endif]>Left 22 ft. <![if !vml]>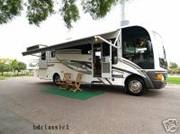 <![endif]>It is like this only better!
We traveled all the way to Key West Florida. We went to 12 states, visiting many state capitols, presidential libraries, attractions (including 4 days at Disney), visiting family and friends and golfed in every state along the way. We did not like the small home so when we got back we invested in a 38 foot A class Fleetwood Pace Arrow, with 3 slide outs. It is like traveling with your home in tow! We have plans for 2 long trips next year. We took a short 4 day trip to the desert to try it out. Awesome!
Bill loves his retirement. He plays a lot of golf, his passion. He still helps at the station on Saturdays and loves it. He does a lot of running around to assist Billy, Ron & Lori. Each day is full of things to do, but he enjoys his afternoon nap. He believes he will live longer because of the nap. Ro gets this window of opportunity to work on the computer. Love is still the mainstay for us. It is like being 16 always.
In the fall we flew to New York to spend 2 weeks with Rosemarie's Mom, Marie. Marie is 86 and still going strong. Rosemarie took a side trip from NY to Austin TX to perform at the March of Dimes most money making fund raiser. She portrayed Carmen Miranda. Her co stars were a Desi Arnez from Florida & Gloria Estefan from Minneapolis. It was one of those highlight performances. What's age got to do with it? While in NY we enjoyed the beautiful fall colors. We drove to Vermont & Massachusetts, took a cruise on Lake George with the Red Hatters and enjoyed family and friends. While at Aunt Alice's in Holyoke, MS; Ro's Mom (86), her Aunt Mary (84), Aunt Jean (76), and Aunt Alice (87) & Bill sang On the Old Rugged Cross and reminisced about family. Thank God for good genes!
Mom Ro Aunt Mary Aunt Jeanie The love birds
<![if !vml]>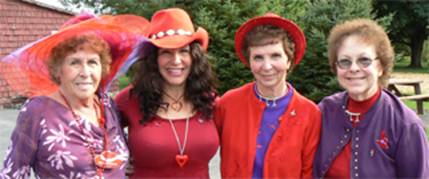 <![endif]><![if !vml]>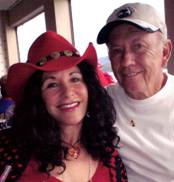 <![endif]>
We always enjoy Halloween. People come each year to see how we decorated and see what we are dressed up as. This year we were little devils. Too much fun! We celebrated our 28 anniversary in Vegas again. We ate at the top of the Stratosphere and enjoyed Celine Deon in Concert at Casers Palace. (Bill's dream)
<![if !vml]>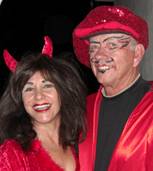 <![endif]> Little devils! <![if !vml]>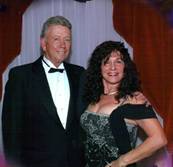 <![endif]> Looking good!
We are closed out the year by hosting 2 Christmas parties; One for Ron & Lori's Station and one for the neighborhood.
We have spent precious time with our kids & grand kids this year. All of those beautiful, precious and healthy children give us real joy. We are all so busy living yet we find great comfort in celebrating special occasions together.
That is what we are up too. Who about you? We pray your life is full and happy. We wish you the best ever!
May God bless you and shine his light and love all over you and yours.
Have a Happy and Prosperous New Year
Bill &Rosemarie
Loves Life
God Bless America